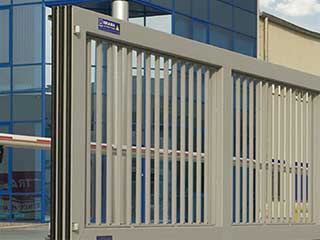 As much as you need your company's gate working reliably, you also don't want to create a bigger hold up with repairs that take too long and cause a big distraction. With our professionals, it'll be done before you know it and last for years to come! Our years of experience mean service that you can count on. You'll only wish that you'd called us sooner.
Swift Intercom Repair Services
If you find that your gate's intercom is less than reliable, or if it's impossible to understand when people speak, it's time to get it taken care of! Our friendly team will be out right away to take a close look and perform testing to get to the root of the issue. Our experts will repair or replace any parts necessary to get things working clearly again for you!
Trustworthy Track Repair
Have you noticed issues with your sliding gate getting stuck, or struggling to open properly? The problem may be with its track. Over time it may have rusted or simply worn out from years of use and need some tending to assure the gate will open smoothly and easily for you again! Our professionals can get it repaired using our top-quality tools so you can rest assured it'll continue working well for a long time.
Excellent Automatic Gate Repairs
Your company's automatic gate is there to combine security with convenience so you don't need an extra body on hand to open and close it manually. However, if there's a problem with the opener or otherwise, then it's not going to be as helpful as it should be! That's where our company comes in. Using thorough inspection and testing, our professionals will get to the source of whatever is causing the gate to grind, make noise, or not open at all and repair or replace the parts needed to solve the problem.
Call Us Now
Contact Gate Repair Brooklyn today and schedule your appointment for fast and easy commercial gate repair services! You won't regret it.