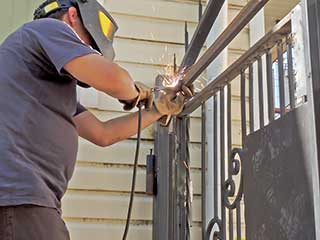 Why leave your property open and easy for anyone to cause trouble or even look for ways into your home or business? With a gate, you can relax knowing that nobody will be allowed inside unless you want them, providing security and privacy as well. Our experts would be happy to lend you a hand!
Quiet And Easy Swing Gates
Gates with doors that swing open and closed are simple to install, which means your new gate will be up and ready to go in no time. This makes them great if you want to get it done swiftly, and affordably as well as it tends to be one of the cheaper options! They're also quieter than some other types may be as long as the hinges remain taken care of and oiled. Hills can be a problem with some kinds of gates, but swing gates have no problem functioning on them!
Save Space With Sliding Gates
A downside that comes with swing gates is needing to have enough room for the door to open and close, so if you want something that can work in a smaller area, sliding gates are the perfect fit! They simply slide along the gate itself to open, so they require no extra room. These gates also work well if the opening needs to be very wide, such as to allow in machinery or large trucks for business purposes. They also can be customizable in terms of style to find something that works best both aesthetically and for your budget!
Trustworthy, Excellent Service
Our professionals have been working in the field for years, meaning you can count on us to provide the finest work available! Using the highest quality equipment and our experience, our team will be able to have your gate put in and working beautifully in no time.
There's No Reason To Wait
It's time to improve security for your property and keep it safer! Call Gate Repair Brooklyn today to schedule an appointment.
In addition, count on us for:

Gate Motor Repair

Gate Opener Service

New Gate Installation

Linear Gate Intercoms