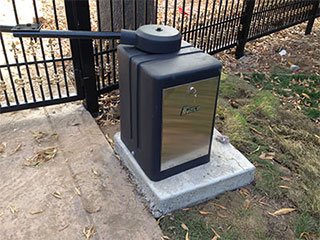 Problems with your drive unit can cause a wide range of issues to develop. One of the most common complaints that automatic gate owners have is that their opener is working slowly, unreliably, or noisily. Our team offers specialist services for solving all of these issues and more. You can rely on us for anything from worn out drive gears that need replacement to the installation of new gate systems.
Top Quality Repair Services
A faulty opener can result from a huge range of problems. Above ground articulated arm systems can become worn or stiff, preventing them from moving smoothly, while sliding gate racked units may be physically damaged by impacts to the gate itself. These issues can all be solved quickly by our experienced technicians, who have been working in the industry for over a decade and know all the ins and outs when it comes to effective and long lasting solutions to common and uncommon problems.
Only The Best Parts
Seeing as it's one of the most crucial parts of any automatic gate system, compromising on the quality of your opener would be a big mistake. Reliability and safety are essential, which is why our team only works with the top manufacturers in the business; brands like Ramset, Eagle and Doorking, which we know and trust. They deliver the quality that our company demands for our customers, and we won't settle for less than the best.
Providing Replacement Units
If the extent of the problem is too big to be worth the repairs, or if you're simply interested in upgrading to a modern model that has more to offer, you found the right company. We also supply and install opener models for every type of gate there is; whether you need an above ground ram or an articulated arm system, our team will ensure you get the right fit for your property. If you're not sure which type of unit you need, our technicians are always happy to provide in-depth guidance and advice to ensure you get the perfect new gate opener that suits your needs perfectly.
Get In Touch With Us Today
If you're in need of professional repair services, or are looking to have a new drive unit installed, look no further. Gate Repair Brooklyn is the company you need. Contact us today to see what our team can do for you.
Want more? Let us take care of:

Rotten Gate Repair

Parking Garage Gates

Liftmaster Gate Opener

Doorking Gate Intercoms