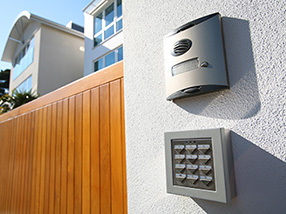 While intercoms allow you to easily converse with anyone who might want to be let through your gate to determine who they are, this only helps if they're functioning correctly! Let our team assist you by repairing or installing a new intercom for you today with our top-quality services.
Repairs You Can Rely On
Over time, your gate's intercom may require repairs to continue working properly. If you find that it's growing harder to understand or be understood, or that it's not transmitting correctly, it's time to get it looked at! Our professionals are deeply knowledgeable from years in the field and will be able to get to the bottom of any issue before you know it, then repair it just as fast! Using the best equipment around also means that it will last you for a long time. There's no reason to put it off!
Fast And Excellent Installation
Don't have an intercom yet? No problem! Our experts can lend you a hand with that. Why should you need to make your way out and down the driveway every time there's someone at the gate, if you even know they're there to begin with? Intercoms let you communicate right away with visitors, deliveries, or otherwise so you're always in the know. Our team will help you to find the right fit for your needs, including video options! You'll be able to speak to anyone at your gate with ease in no time.
There's No Need To Wait
Rather than struggle with an intercom that you can't trust to work correctly if at all, or having to deal with every visitor to your gate in person, let our experts help! Gate Repair Brooklyn will have it repaired or installed in a snap and will always get there on time so there's no big delay to your busy life. Call us today to schedule an appointment so our professionals can get to work!